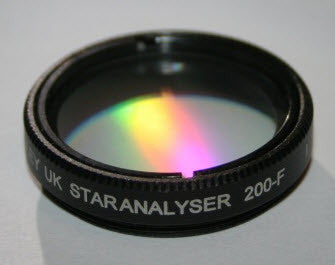 Star Analyser 200 Grating
The SA-200 is for applications where it is difficult to achieve the optimum spacing using our Star Analyser 100.
The SA-200 gives the same length of spectrum at half the spacing compared with the SA-100 (link).
For most users, our SA-100 will be the grating of choice. If you are able to mount our SA-100 in a way that our calculator (link) shows you will be able achieve optimum spacing, the SA-100 should be chosen for best performance.
When mounted at half the distance from the camera, the SA-200 grating gives almost the same performance as an SA-100. We offer the Star Analyser 200 for special situations where the grating has to be mounted inside a filter wheel or closer than the calculator shows is ideal for the Star Analyser 100.
This item is hardware only. Does not include any software. 
---
We Also Recommend