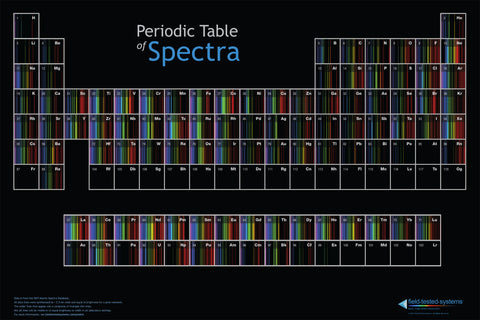 Periodic Table of Spectra Poster
This beautiful 24" x 36" laminated poster shows the spectra for each element in the periodic table in brilliant colors. 
It's a great way to illustrate that each element has its own spectral "fingerprint."
If you're a teacher, this poster is a memorable teaching tool! Whether you're teaching chemistry, physics, astronomy or general science, your students will be fascinated by this beautiful and effective presentation.  
Above: a close-up of the upper left corner of the
poster that shows the Hydrogen Balmer series.
US and Canda
Shipping is $10.95 via USPS Priority Mail. Delivery time: 2 to 3 days. Up to 3 posters can be shipped for this price.
For more economical shipping within the US, USPS Media Mail is available for $6.95. However, delivery time can be as long as 3 weeks with this service.
Also available in the US printed on metal: link.

EU/UK Purchases

You can purchase the same laminated poster as above from our European dealer, Sordalab: link.

Other countries

Contact us for shipping costs.

What does this poster mean? Click this link.

Data source: this chart displays at equal strength and width all persistent lines from the NIST Atomic Spectra Database. Not all lines shown will be visible or of equal brightness in all laboratory settings.
Accredited institutions can purchase via PO. Click the green Contact button at the lower right to ask us for a quote or for the email address to which to send POs. Quantity discounts available.
---
We Also Recommend