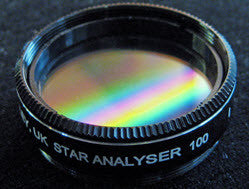 Star Analyser 100 Grating
The Star Analyser 100 (SA-100) was designed specifically for amateur astronomical spectroscopy. It can be mounted on your telescope just like any other 1.25″ filter. It's is easy to use and works with most cameras. Capturing the spectrum of a star is easy!

Note: To use a Star Analyser grating, you should already be able to capture images of deep-sky objects.   You need to be able to locate specific stars in the sky. And you need to be able to capture images of them that are properly exposed, well-focused, and not smeared from their movement through the sky. If you don't yet have those skills, you will need to learn them before using a Star Analyser. If you need further information, we're happy to coach you on how to get started in astronomical imaging: contact form link.

Use this grating with a DSLR or small telescope, and our award-winning RSpec software which is not included when you purchase this grating. 
The $195 Star Analyser 100 is a diffraction grating with grooves that are spaced at 100 lines/mm. The grating is durably mounted in a standard 1.25″ filter cell and is protected on both sides with anti-reflection coated glass.
Click the green Contact button at the lower right to contact us.
The video below shows some exciting examples of what you can do with a Star Analyser:
There are several ways to mount a Star Analyser grating. In addition to watching the above video, please download this easy, one-page guide: link. Or, see our calculator for mounting details: link.

Note: we do not sell this product in the UK or EU.  
Note: don't overlook our beautiful, new 24" x 36" Periodic Poster of the Spectra poster (below). See this page for details: link.
---
We Also Recommend